SHE Organisational structure
We recommend you to read the following documents about SHE to get an overview of how we work.
SHE leaflet 2021 (online version with direct links)
How is the structure of SHE?
SHE is a foundation with a board, overseeing the progress and functioning of SHE.
The SHE board is the body in charge of the SHE Network Foundation and supports the SHE secretariat, overseeing the progress and functioning of SHE.
The SHE Secretariat is responsible for the daily management and is a central contact between members of SHE.
The national coordinators, representatives from 40 countries from Europe and Central Asia, have the main role in supporting health promoting schools in their countries through contact and dialogue with school authorities, schools and practitioners.
The SHE Research group is a consortium of researchers who provides SHE with a direct contact to a range of universities throughout Europe.
The figure below shows the entities in SHE.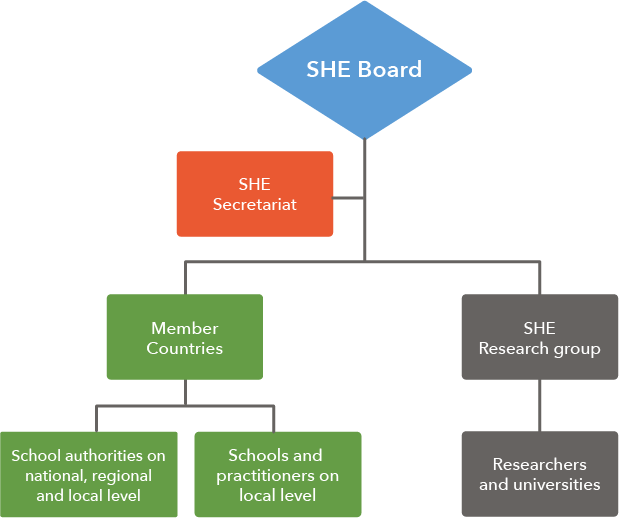 Funding
SHE is a non profit organisation. The main funding comes from the Commission of the European Union, but also the member countries, research institutions, UC SYD (where the SHE secretariat is placed), WHO and others (e.g. subcontracters) contributes time and commitment in SHE's work.