Online meeting 11th June 2021
Material from the annual SHE research group meeting will be presented here. 41 group members have signed in as participants. The host of the meeting is Fulda University of Applied Sciences, Germany, and the meeting is online.

In the days to come, you will be able to see the presentations from the meeting below.
News from SHE (Anette Schulz)
Health Promoting School research in the Netherlands (Nina Bartelink)
---
As part of the research group meeting, a webinar was held. The title of the webinar was 'Health, wellbeing and education. Global perspectives on school mental health' and speakers were professor Vikram Patel from Harvard Medical School (US) and assistant professor Catriona O'Toole from Maynooth University (Ireland). See their biographies.
The webinar was recorded and will be posted here in due time.
Transforming schools to promote the mental health of students: lessons from India (by professor Vikram Patel, Harvard Medical School, Boston, Massachusetts)
At the heart of education: Integrating trauma-informed practice within school mental health promotion frameworks (by assistant professor Catriona O'Toole, Maynooth University School of Education, Ireland)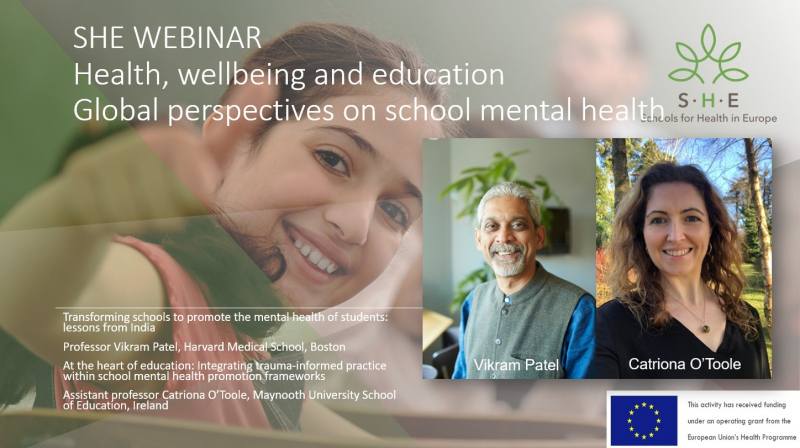 ---
Online meeting 28th-29th October 2020
The 2020 SHE Research Group Meeting was held on Wednesday, 28 October and Thursday 29 October 2020 as an online event. Below you can find documents from the meeting.
Minutes from research group meeting 2020
SHE research group: Current and future issues (Marjorita Sormunen & Kevin Dadaczynski)
Keynote presentation: Reflections on social awareness, wellbeing and structural vulnerability among children and youth in times of COVID-19 (by professor Carole Faucher, University of Edinburgh)
The effect of school time organization in the wellbeing of children and youth (by Daniel Gabaldón-Estevan)
COVID-19 and the social determination of health (by Luciana Collier)
The role of self-efficacy as a mediator between the perception of the difficulties of distance learning and perceived stress in teachers in Italy and the rest of Europe (by Lynda Stella Latke)
Capacity building workshop agenda
Minutes from the capacity building workshop
A short description of Finnish Schools on the Move
Find documents and videos on the Finnish Schools on the Move's website
Schools on the Move overview video
Schools on the Move teacher comments
11th June 2020
Aim of the meeting:
• to provide an update for the RG members about the SHE RG ongoing and future activities (2020)
• to provide a forum to meet (virtually) and exchange views and thoughts related to school health research, RG activities, and current situation (COVID-19)
• to launch the RG working teams activity
Find the material from the meeting here:
News from SHE secretariat (Ulla Pedersen)
Health literacy (Orkan Okan & Leena Paakkari)
SHE RG Working teams (Marjorita Sormunen)
Working teams group discussion