Titel of SHE webinar: Health, wellbeing and education. Global perspectives on school mental health
Schools for Health in Europe Network Foundation invites you to this online webinar, which will be held on Friday, June 11th at 5:15-6.15 PM (CET).
Programme:
Transforming schools to promote the mental health of students: lessons from India (by professor Vikram Patel, Harvard Medical School, Boston, Massachusetts)
At the heart of education: Integrating trauma-informed practice within school mental health promotion frameworks (by assistant professor Catriona O'Toole, Maynooth University School of Education, Ireland)
Join the webinar by using this link to our Zoom platform (no registration is needed):
https://ucsyd-dk.zoom.us/j/68703433877?pwd=OWRqc283ODFXblpxSnQ2cUY1V1JOUT09
The webinar is free of charge.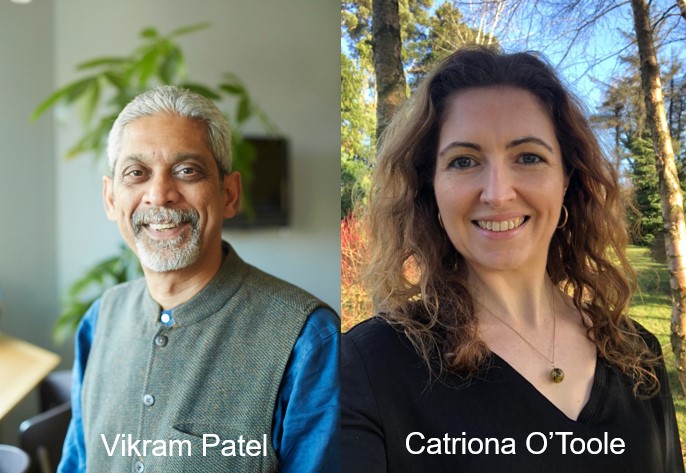 Biography:
Vikram Patel
The Pershing Square Professor of Global Health and Wellcome Trust Principal Research Fellow
Department of Global Health and Social Medicine
Harvard Medical School
Boston, Massachusetts, United States of America
The Pershing Square Professor of Global Health in the Blavatnik Institute's Department of Global Health and Social Medicine at Harvard Medical School. He is an adjunct professor at the Public Health Foundation of India, honorary professor at the London School of Hygiene & Tropical Medicine, and is a co-founder of Sangath, an Indian NGO which won the MacArthur Foundation's International Prize for Creative and Effective Institutions in 2008 and the WHO Public Health Champion of India award in 2016. He is a co-chair of the Lancet Commission on Reimagining India's Health System.
---
Catriona O'Toole
Assistant Professor
Maynooth University School of Education
Maynooth, County Kildare, Ireland
Chartered psychologist and Assistant Professor in Maynooth University Department of Education. Her research focuses on school wellbeing and mental health promotion, with a particular focus on childhood adversity and trauma-informed approaches. She is also interested in mindfulness, compassion and contemplative practices and her work explores how education can contribute to human flourishing and the creation of peaceful and equitable societies. She is currently working on a project to build capacity for trauma-informed practice across education sectors supported by the Irish Research Council, a review of state-of-the-art in school mental health promotion, and a UNESCO project; 'Human Flourishing and Education'.