Twinning
SHE twinning is a fun and alternative way for children to learn about health and health promotion. Schools are paired with another school, either in their own country or abroad, and develop collaborative projects with one another on the theme of health. Your national SHE coordinator or the SHE secretariat can help find a twinning partner for your school or school class.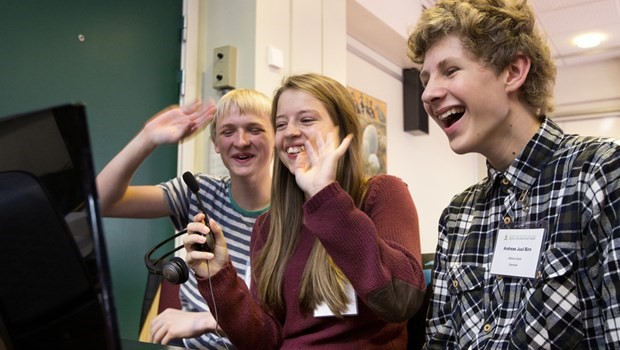 Students chat with their twin class online
CASE: Skopje-Turin twin classes
In 2021 two middle school classes in Turin (Italy) and Skopje (North Macedonia) were paired with the assistance of the SHE secretariat. The two teams consisting of teachers and psychologists initially met online to discuss the scope and theme of a collaboration between the schools. Then, they put their students to work creating PowerPoint-presentations and 2-minute videos in which they introduced themselves. These were exchanged via an online platform and had the effect of drumming up curiosity in the students about their new international contacts. Mutual interests were discovered, and the upcoming virtual meeting between the Italian and North Macedonian students became hotly anticipated. One week before summer break the students finally met online: Using English as the main language and with some translation assistance every so often, the meeting was moderated by a student on each side, who explained how the school system worked in their countries. After students had introduced themselves one by one, they indulged in the topics that most interested them: food, languages, and music. Towards the end of year, the students remain enthusiastic about twinning, and the teams on both sides intend to continue the partnership in future. Psychologist and parent of one of the Italian students, Lynda Lattke, says:
"After this experience, I look forward to promoting the twinning experience to many other classes …The project offered teachers an alternative way for their students to learn about their subjects, in this case, Geography and English."
Want to start your own twinning project? Here's how!
Contact your national or regional SHE coordinator or the SHE secretariat with your request. You will be matched with a school/class with similar wishes for cooperation as your school/class. You will get contact information and can make further arrangements yourself. Schools can decide for themselves what kind of twinning activities will be relevant (e.g. online communication or exchange visits) and how often.
For ideas and inspiration on how to get you started, download the twinning leaflet:
FAQs (Frequently Asked Questions)
Is it free to participate in twinning?
Yes, twinning is free of charge.
Can SHE provide funding for our twinning project?
Please note that the SHE secretariat does not have any funding available for twinning activities.
Can we twin with a school from our own country?
Yes. Working together with other schools is a great learning experience, regardless of whether your twinning partner is located inside or outside your own country. Twinning with a school from one's own country or region has the added benefit of avoiding obstacles such as language barriers.
How do we communicate with our twin class?
Schools can use Skype, Google docs, e-mail, blogs, Facebook or other existing platforms. There is also the possibility of using the eTwinning platform of Erasmus+. It is a free and safe platform for teachers, principals and others from the school community to connect, develop collaborative projects and share ideas in Europe.