Examples from practice
Do you want to know more about practice in health promoting schools in other countries? The following case studies present practice examples. You are always welcome to send your own practice exemples to the SHE secretariat.
---
A key to maintain natural and cultural heritage
'Knowledge in coexistence with the environment opens the window on the world'. This is the slogan of Slovenian health promoting primary school Janka Ribiča Cezanjevci. During a project week and cultural and science days in the school year 2020/21, the students have sought knowledge from three generations of citizens to learn about their home environment. Results, facts, and findings were documented in a publication that was distributed to the students' families. The aim is that pride in the hometown will help students become active citizens. Have a look at the Slovenian website with visual documentation.
---
Health education: the impact of puberty
In Portugal, the schools of Carolina Michaelis and Irene Lisboa have activities in the 6th grade classes (with children 11 to 13 years old) that focus on the physical and emotional changes of adolescence. Activities like classroom sessions on transformations that occur during puberty, distribution of a guide for students, and a guide for parents, and distribution of a kit with feminine hygiene products for the girls.
---
Educational playground - learning through games
Make all schools appealing and great places for children to live and learn! In North Macedonia, the primary school Kliment Ohridski has created a new outdoor school space with success. By using paint and a big dose of creativity, a part of the school yard is transformed into an educational playground, intended for the youngest students. Read more.
---
How to be a supportive teacher and increase pupil's well-being
Pedagogy is a vocation for teachers and animates and inspires us and when teaching is building on a holistic view of caring for our pupils and students, well-being is created. Read the views of Luisella Magnani from Italy and the theory she uses to create well-being amongst children and youngsters.
---
I Care About Health
A poetry recitation can be an excellent health education. In Poland, the competition "I Care About Health" took place at the Pre-School Departments in Mrzeżyno as part of the Schools for Health program for children aged between 3 and 6. Read more.
---
Active minutes for health during class in the 1st grade
What can be done to improve the health of the students when they are working at home? You can find inspiration in the activities of the 1st grade in the primary school Osnovna šola Miška Kranjca in Slovenia, where 'Active minutes for our health' is a part of everyday life. Read more.
---
Slovenia: drawings on the playground
Including sports activities in after school care and regular lessons was the aim of the teachers in after school care in The Idrija Primary School in Slovenia. They made attractive drawings the playground which gave musch interest from students at school. Read more.
---
Healthy spring in school
The school project "Healthy Spring" in Simonas Daukantas gymnasium in Lithuania is held in May and June. The aim of this event is to promote a healthy lifestyle among the school community. Read more.
---
Lithuanian students as detectives
The teachers in Miroslavas Gymnasium in Lituania take pride in the fact that the students do not just sit inside at home during this pandemic. Read more about how an outside detective search is used as a way to promote physical activity.
---
Holistic health promotion in Hungarian schools
In Hungary, the holistic health promotion (HHP) for schools is prescribed by law since 2012 and it means a holistic, whole school approach. HHP comprises four health promoting tasks for teachers to do in their every day work: 1) healthy eating; 2) daily physical education and other physical activities; 3) use of appropriate pedagogic methods and the arts to enhance mental health; 4) improving health literacy. Teachers are supported by public health actors - read more about it and about promotion of healthy eating in schools. Read more (English) (Hungarian).
---
Safe use of digital media and mobile devices
Digital media and mobile devices are present in our daily lives. When used improperly, they can become a real danger to both children and adults. In Poland, FONOLANDIA is the first comprehensively developed educational project concerning the responsible and safe use of digital media and mobile devices. FONOLANDIA educational kit is intended for kindergarten teachers, early school education teachers, school psychologists and educators, employees of psychological and pedagogical counseling centers and for parents working at home. Read more (English) (Polish).
---
Slovenian students and teachers were challenged
Taking part in the project "Accept the challenge to be healthier", students from 1st to 5th grade and their teachers in the Slovenian elementary school Toneta Okrogarja had immense fun. They are now striving to make this project a tradition and challenges others to be healthier, too. Read more and see the project video.
---
Young artists
The general-purpose pre-school artistic direction institution of Marijampole Kindergarten 'Rūta' focuses on the individual child's abilities, aiming to meet the most important children needs: self-expression, exercise, cognition, self-value, health support, self-education and artistic education. This activity develops children's ability to experience a sense of success, strengthens self-esteem, allows to experience a creative power and encourages to speak freely while understanding their feelings, dreams and moods. Read more.

---
"The journey to a healthier childhood"
The community of Marijampolė kindergarten "Rūta" pays great attention to children's nutrition. The children travel to the Fruit Kingdom and visit the Water Kingdom and the Food Pyramid Country. Read more.
---
Healthy Lifestyle in Kindergarten
Vegetables do grow in shops! That was the conviction of a majority of the children in kindergarten "Eglute" in Lithuania before playing the game "At my grandmother's village", working with the food pyramid and having further discussions on the subject. What is taste and what do I like? When asked which activity left the biggest impression, everyone unanimously referred to the "Green Table". It was a table that had been set with fresh green fruits and vegetables. It was fun not only to observe green fruits and vegetables, but also to smell and taste them. Read more.
---
"Healthy teeth – big smile"
It is important to train appropriate oral hygiene and skills and form the habits from early days. Klaipėda nursery school "Ruta" in Lithuania carried out the project ""Healthy teeth – big smile" in February to improve dental care skills and to gain healthy living competence. Read more.
---
Lithuania: The health promoting kindergarten
The health promoting kindergarten is a better place for children to grow and for staff to experience non-traditional methods of teaching and to focus on action-oriented approach to health education. Read more about approaches in the kindergarten "Žiogelis" in Anykščiai, Lithuania.
---
Communication campaign against unhealthy food
The Moldovan-Swiss project "Healthy Life: Reducing the burden of noncommunicable diseases", has launched two national campaigns on reducing salt intake and trans fatty acids in Moldova. The Health Promotion Schools will implement educational activities to promote healthy food, during the local level awareness campaigns on reducing consumption of salt and trans fats. Read more.
---
How to organise work during distance learning
For some students it is easy to organise their work when schools are locked down during the pandemic, but other students need instructions and continuous guidance on how to use the time from morning till evening; to study at home, do all the tasks and still find some free time. In the Slovenian health promoting primary school Milojka Štrukelj Nova Gorica, the teacher Martina Bratuž has developed an organising tool kit in collaboration with her classes. Read more.
---
Distance Education of students with special needs
Trebnje Elementary School is one of the largest schools in Slovenia. In the school district, Roma students represent a community with own culture and language. Often, students come from a less supportive social environment, which poses a particular challenge during distance education during the corona epidemic. Through good planning, adaptation, and cooperation of all involved stakeholders, good examples of the practice of working with Roma students have been developed. Read more about the challenges and how they were succesfully met in distance education of a long-term sick Roma student.
---
The frog Nina and the world of emotions
Emotional well-being is more important than ever, due to the pandemic, and "Nina the Frog" is a valued staff member in the Lithuaninan Mažeikiai Nursery – Kindergarten "Žilvitis", where the kindergarten psychologist has invited her to stay. Nina lives in a multi-series cartoon and helps children to learn how to recognise and express emotions. Read more.
---
Full hearted citizenship in 9th grade in Portugal
Students from 9th grade at Gafanha da Nazaré High School in Portugal have raised awareness for citizenship, through gestures that make a difference.
To celebrate Christmas 2020, the students wrote letters to people with physical and emotional weaknesses, many of whom lived in solitude. This video illustrates the entire process, from writing the letters, delievering them to the receivers and to the reactions of getting the letters. Everyone was definetely left "full hearted" - which was the name of the project! Watch the video.
---
Children's Storytelling Important in the Time of COVID-19
Children's storytelling and artistic creation of books has a positive effect on the mental, emotional, and social development of children during the COVID-19 pandemic. The project "Children's Stories Will Be Glorious" takes place in North Macedonia and connects traditional storytelling and family resources. It aims to develop authentic values and new teaching methods with a unique approach to lifelong learning. The overall goal of the project is to achieve a set of different learning objectives for the national educational platform by creating digital picture books. Read the report.
---
Poland: A systematic health approach in education of adolescents
School ZS Nr 6 from Szczecin in Poland educates adolescents in nutrition engineering, hospitality industry and tourism and work with a systematic health approach that involves the vast school community. Amongst many initiatives, the school arrange "The Days of Health" in cooperation with the students and with themes as: salt as a forgotten killer, nutrition of athletes, the truth about sugar, vegetable power, diet for the heart. Young people have been committed to providing content, creating thematic tables and quizzes, and presenting the ingredients or dishes related to this topic. The school has been awarded the Provincial Health Promoting School Certificate. Read a report on the many initiatives (and the report in Polish).
---
Recreational break
In 2015, the Slovenian health promoting primary school Milojka Štrukelj Nova Gorica implemented the recreational break as a permanent part of the school day. It is called "a minute for health", and the students now consider it as a natural part of their school day. The break has now been adapted to all protection measures during the pandemic. Read article.
---
Sport camps in nature in secondary school, Slovenia
Hiking, paddleboarding, swimming, archery, cooking mussels..... Sport camps are a great opportunity to give students a chance to do sports in a great environment. The Secondary School in Ljubljana (Slovenia) organize sports camps in nature to raise awareness about the importance of sustainability and nature conservation. Many kind of sports can not be introduced to students within the school's context but sport camps in nature offer new possibilities and perspectives. These camps are offered outside the school curriculum by the Secondary School of Civil Engineering, Land Surveying, and Environmental Studies Ljubljana to the first-year students. Read an article.
---
Physical activity during lock-down
Despite the lockdown in the time of COVID-19 and a limited ability of pupils to take up sport, the Osnovna šola Gustava Šiliha Velenje school in Slovenia wants to enable its pupils to participate in physical activity of the highest possible quality. To implement the physical education classes during the lockdown, pre-prepared videos are used. The videos are uploaded online and are therefore always accessible to everyone. The goal is to organise learning within and across subjects - e.g., a mathematical or Slovene lesson is presented through physical activity. In addition to posting exercises on YouTube, physical education lessons are also implemented via Microsoft Teams with "live" performance. Have a look: Video 1 - video 2 - video 3.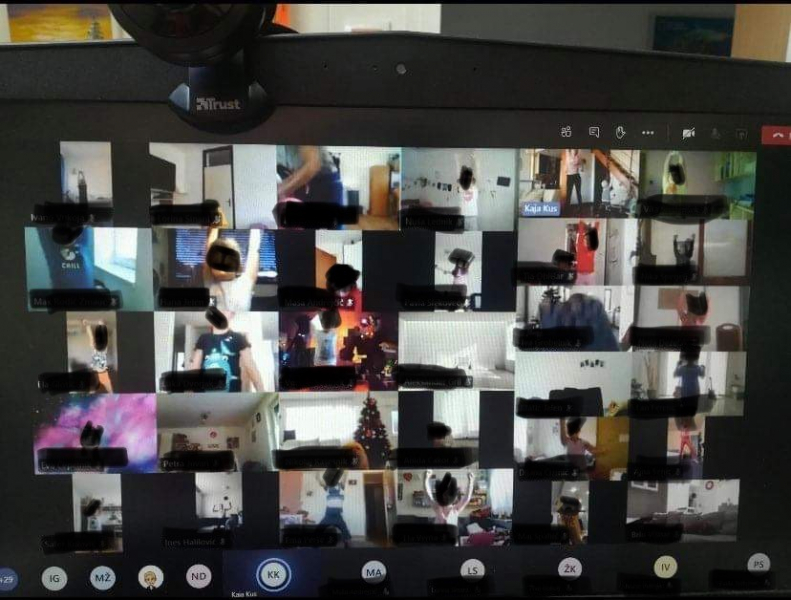 ---
Encouragement of social skills and a healthy lifestyle
Primary school Prežihov Voranc in Slovenia has a history as one of the first schools in the Slovenian network of healthy schools. Through different projects and activities, the school is promoting its values: mutual relationships, empathy, solidarity, belonging, hard work, kindness, respect and taking care of health, a healthy life style and nutrition. Read an article that tells about the projects and activities of this healthy school, also with examples from the time of COVID-19.
---
Culture and health hand in hand
Many workshops have been performed at Primary School Bistrica ob Sotli in Slovenia since 1993 to promote physical and mental health. The healthy way of life and importance of balanced diet are introduced to pupils who are also encouraged to spend leisure time actively and to practice sports. The school recognises cultural activities as important for children's development and health - activities that bind culture and health and connect generations. Have a look at an article that shows how the school upgrades the integration of culture and health in the time of distance learning during the pandemic.
---
Teachers collect kilometers
Teachers' health is important! But how can it be promoted in a time where schools are locked down? In the primary school in the small village called Selnica ob Dravi in Slovenia, teacher Barbara Bedjanič has started a campaign: teachers collect kilometers. With the campaign, she encourages her colleguages to move and feel good. Each teacher collects as many kilometers as he or she can within a week, month and a year, and the group of teachers encourage each other through a web application. The number of participating teachers is increasing every week - instead of being kilometers away from each other, the teachers are connected by kilometers.
---
Latvia: Handwashing campaign
In 2020, a public awareness campaign and a new educational project were implemented in Latvia for different audiences regarding the importance of personal hygiene and proper handwashing. To let other countries learn form Latvia's experience, highlights from the campaign are shared. Read about the campaign. Since 2016, The Centre for Disease Prevention and Control of Latvia (CDPC) has been hosting educational activities for different audiences regarding the importance of personal hygiene and proper handwashing.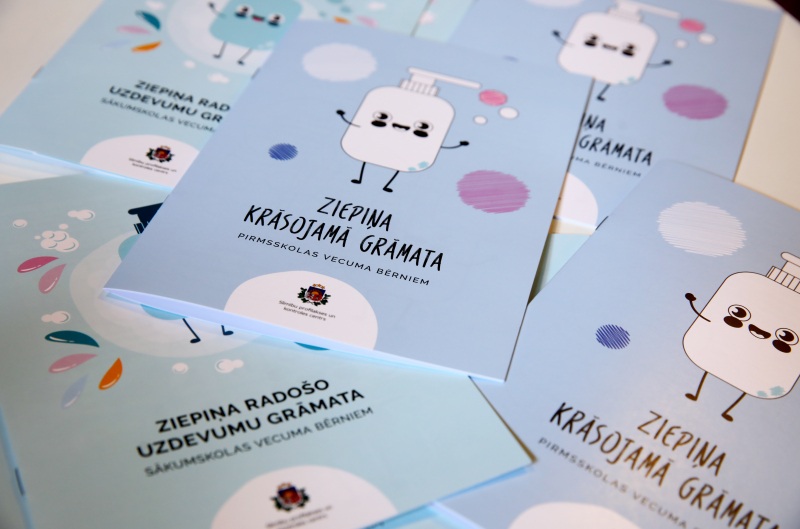 ---
Slovenia: Be Fit Break
The primary school Dolenjske Toplice is located in the southeastern part of Slovenia. The school practices a movement break, named Be Fit Break (Slovene: Bodi fit odmor or BFO). Be Fit Break takes place after the first lesson and it lasts about 5 minutes. The main purpose of the break is for all pupils to fully wake up and exercise in order to improve their learning abilities. It has been proven that morning exercise has a beneficial effect on the body, it improves the mood, and has a positive impact on the brain as it significantly increases the sharpness of mind and the perception, improves the power of memory and deduction and thus prepare the pupils for all the challenges they may face that day. The Be Fit Break is very popular among pupils and teachers and is one of the measures for preventing the negative impact of the modern lifestyle. Read about how it is done (in English) and in Slovenian.
---
Riding a bicycle is for body advisable
The Slovenian School of Civil Engineering, Land Surveying, and Environmental Studies (a secondary school) in Ljubljana participates in the "Schools for Health" program. As youth's motor skills have significantly declined due to the global COVID-19 pandemic, the teachers have decided to encourage the students to do more sports. Being aware of the need for special conditions because of the virus, the students are introduced to sporting activities that can be carried out in nature. A project, "Riding a Bicycle is for Body Advisable", is part of multiple activities to raise awareness of the benefits of bike-riding - from a cheap and virus-safe means of transportation to great sporting activity. Read about the project.
---
A Swedish school blog inspires to an active life during lock-down
The Swedish school Fredsborgskolan in Åkersberga is a school with Health & Movement as profile. The work of creating active days with health in focus is a challenge when teaching is done largely through digital tasks. Important are therefore exercise breaks/brainbreaks, heart rate-boosting activities, healthy food, value-based work and, of course, active breaks. The school wants the students to feel that they are part of a context even though they work from home, the feeling of unity is extremely important. Through a school blog, the teachers want to inspire children, young people and guardians to a more active everyday life. Have a look at the blog - it's in Swedish but there are lots of instructive videos.
---
Sport Activities During the Pandemic in a Slovenian School
Sport activities during COVID-19 pandemic have been quite a challenge. Kids were, most of the time, closed in between 4 walls with limited movement. All indoor and outdoor sports were mostly banned, and all trainings were suspended. Their work for school was mostly behind the computer. They were socially distanced from their friends and in many cases, they were not able to do things they like. At the elementary school Milojke Štrukelj Nova Gorica in Slovenia, sport teachers have tried keeping sport hours (as a subject) on the normal routine with some theoretical and practical tasks. Read the story.

---
Maintaining Health Through Relaxation Techniques
A new member school of the Slovenian healthy school network, Osnovna šola Dekani, has focused on preventing stress and caring for a more relaxed working day at school. An initiative is informing all 6th to 9th-grade students about the importance of everyday relaxation for mental and physical health. They are shown various relaxation techniques in the hope that everyone finds one or more techniques that work for them. Read the case story from Slovenia with many practical examples on how to focus on relaxation.
---
Hungarian Spine Society's Prevention Program
The physically inactive, sedentary lifestyle of today's children and young adults often results in bad posture, improper muscle balance and overloading of the spine. The only possibility for prevention is daily physical education and, within that, regularly performed special posture correction exercises for all school-children. To improve the children's chance for a healthy life, the Hungarian Spine Society launched it's Prevention Program with two goals: that schools offer daily physical education classes and teach special posture correction exercises to every student in daily physical education. Read about the prevention program.
---
COVID-19 and Social Inequalities
Before the beginning of the COVID-19 pandemic, Brazil already faced situations of imbalance in its political, economic, and social structure, and during the period of social distancing, social inequality has deepened. The urgency for a new approach between the school and the economically vulnerable population has encouraged schools to act. Schools are making a participatory diagnosis of the health situation of the wider school community, observing the demands related to socioeconomic factors that impact prevention, dissemination, and control measures in relation to the coronavirus. Read more about how an ongoing Brazilian research project guides participation.
---
School Gardening, as a Complex Health Promoting Activity
In Hungary, the holistic health promotion (HHP) for schools is prescribed by law since 2012 and it means a holistic, whole school approach. HHP comprises four health promoting tasks for teachers to do in their everyday work: 1st healthy eating; 2nd daily physical education and other physical activities; 3rd use of appropriate pedagogic methods and the arts to enhance mental health; 4th improving health literacy. Beyond public health actors also other sectors give help to the teachers in their HHP tasks. Read the article 'Intersectoral help for schools: School gardening, as a complex health promoting activity' and the publication 'Basic School Gardensubprogramme'.
---
Classroom in Nature
These days, the primary school St. Kliment Ohridski from Bitola (in Republic of North Macedonia) completed the "Classroom in nature". A large number of students from 8th and 9th grade participated in the action and were motivated to create new products by recycling materials and to contribute to improve the conditions in the school. Now the students will be able to realize some of the lessons in nature in the school yard, which will contribute to the development of environmental awareness for a clean environment and to a healthy living in the times of COVID-19. Read more.
---
The Psychosocial Health of Teachers
Health and education are closely linked. These days, teachers are facing considerable challenges and school as a social space can - and should - promote the psychosocial health of all. Only (psycho-socially) healthy and resilient teachers can have a positive effect on the well-being of students. In the school year 2020/2021, a focus will be placed on strengthening the mental health of teachers in Austria. Read more.
---
Education for Health in Portugal
In Portugal, a group of teachers from a secondary school situated near the coast, in Gafanha da Nazaré, has developed a project – Education for Health – which aims at creating activities to keep the school community connected and healthy. Despite the distance originated by the recent lockdown provoked by the pandemic COVID-19 crisis, this project gave a weekly input, thus succeeding to keep the school community together.
Every week a message and a challenge were sent to the whole school community to inspire the community to feel as a family, to be present, to convey a message of hope, to provoke laughter and consequently mental and physical well-being. This initiative brought all the elements of the school community closer, making them more "Present@Distance".
See an example of the challenges.
---
Mental health and COVID-19
During the corona crisis, the care for the mental health of the students of the elementary school Milojka Štrukelj Nova Gorica in Slovenia, has been carried out in several ways. One of them has been using volunteers from the local community to be in dialogue with the students online. This could be discussing the worries of the children: When will I see my friends? Are they healthy? How many people will die? Also, the volunteers gave online-help to students concerning their homework. Volunteering has been of great importance for both children and adults in the community during this difficult time of COVID-19. Read more.
---
Move at home!
In Hungary, the national SHE coordinator Annamária Somhegy has worked together during the corona crises with the head of the Hungarian Television to put physical exercises into the program of MTV5 where teachers and children got help to their digital teaching/learning while schools were closed. The "Move at home!" ("Mozogj otthon!") program started at several channels in the television and according to Annamária's recommendation, the "Move at home!" program has been led by physiotherapists with a special attention paid for spine and joint protection. Have a look.
---
Coping with stress at the COVID-19 pandemic
A nursery school called Saulute (means "The Sun") from Lithuania, city Gargzdai, wish to share its expereince about stress coping in pandemic COVID-19. The nursery school is medium size, there working more than 50 workers, of which 27 are teachers and teachers for children with special needs, and there are 230 children from age 2 to 6. As the quarantine in Lithuania stopped education in nursery schools, Saulute nursery school started remote education and put an effort in still developing the children's health competencies. Have a look at a video that the school posted on YouTube and read about their best practice stories.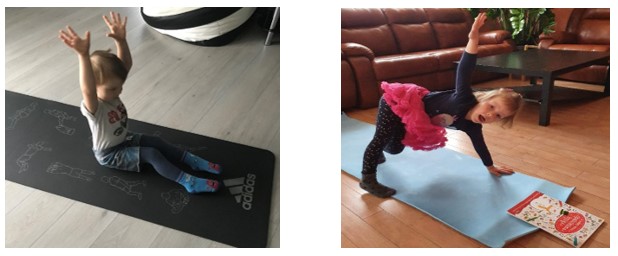 ---
Drinking water
In Belgium there are several recommendations and projects for water drinking at school. Read more about this.
---
Good Practice in Lithuania
The entire community at Klaipėda Smeltė Progymnasium, Lithuania, has been participating for many years in short-term and continuous projects that promote physical and psychological health and provide increased knowledge and skills. The community is united by this range of projects. Get inspired by reading about the many activities at the school and have a look at this video.
---
Moments of Kindness during the Pandemic
Nursery-school in Marijampolė, Lithuania, has a large number of initiatives to bring pupils, their parents and community together whilst still in quarantine: dancing, singing, appliqueing, drawing, painting, versifying poetry, and outdoors activities.
The pre-school group PELĖDŽIUKAI and their teachers have taken part in initiative 'Flowers in the windows for medics', 'Stay united' and 'Raise a flag'. Drawings and paintings from the pupil were exhibited in both national and international exhibitions. Read more.
---
"FAST Heroes 112" Educational Program
The "FAST Heroes 112" is a holistic school-based educational program which delivers knowledge to children and their extended family to identify the signs of stroke as well as provides guidance on how to respond correctly by calling the emergency number in the event of a stroke. A pilot virtual on-line educational training program in the Greek language is launched because of the corona situation. The online version of the program uses 5 videos, each lasting no more than 15 minutes. The videos will be sent to the families every 3 days. The lesson plan involves a series of various interactive image and sound combinations, such as digital storytelling, questions, colouring, family games, missions, etc. Read more.
---
Strategic Use of Social Media During the Pandemic
The José Régio Schools in Portalegre, Portugal, has a wide range of activities to maintain the physical, mental and psychological health of students during the pandemic. Dissemination of messages happens through various digital media, flyers, posters, powerpoints, and short videos. The Student and Family Support Office has created an Instagram page, based on the sharing of thematic activities, for the development of playful pedagogical activities that promote the emotional and mental well-being of students, and on the Facebook page of the Grouping Health Fair, Therapists and psychologists streamline the space: "Therapies Corner". Read more.
---
The Fight Against Viruses
Pakrazantis Gymnasium of Kelme district in Lithuania is recognized as a health-promoting school. The gymnasium pays a lot of attention towards the development of healthy lifestyle competencies, and the involvement of the entire gymnasium community in the activities. We believe that a health promoting school creates better learning and teaching conditions because healthy students learn better, and a healthy teacher works better. Read more.
---
The promotion of psychological and mental health
In Portugal, the Carolina Michaelis Associated Schools Group has during the time of the pandemic a specific focus, not only on students' physical health, but also mental and psychological health. The online communication between parents, students and teachers is expanded with new themes like general recommendations on COVID-19, organization of routines, issues related to health and self-care, study support, guidance for parents, online safety, dealing with anxiety and avoiding conflicts. A Psychology/ Guidance Service Team monitors processes through meetings and dialogue. Read about all the initiatives and see a powerpoint presentation on the work at the schools.
---
Lithuania: Taking care of community health during the quarantine periode at Šiauliai Progymnasium
Šiauliai Progymnasium in Lithuania has a specific focus on taking care of community health during the quarantine periode due to the pandemic. In response to the parents' questions, teachers and education support-specialists organized consultations, and recommendations on how to adapt the home environment to the learning process and how to divide work and rest time is given. Teachers, parents and children are sharing experiences, getting aware of the advantages and disadvantages of distance learning. Emotional health of the pupils is in focus, and members of community have been actively provided with consultations by education support-specialist and psychologist. Read more about the activities initiated of the progymnasium. Read more about the activities initiated of the progymnasium.
---
Lithuania: Experiences from Prienai "Ziburys" gymnasium during the COVID-19
Due to the corona situation in the country and in the world, education at Prienai "Ziburys" gymnasium, as in other Lithuanian schools, was reorganized into distance teaching/learning. School-based health-promoting activities have got a high priority and of particular importance to the adolescents' physical and emotional health is their social health relationships. Read a case report from the gymnasium, telling about the school health activities during the lockdown. Among other things, the gymnasium has specialists (a psychologist and a social pedagogue) who conduct non-formal education "I Communicate Without Fear" video conversations with groups of I - III gymnasium students. The following educational topics are discussed with students:
House rules and compliance; The importance of the agenda for psychological and physical health; Psychological hygiene; Students' feelings in the quarantine situation; The circle of expression of anger; Self-care - an indisputable necessity; Areas of life and roles played in them; Harmony of life.
---
Mental health - good practice from North Macedonia
A workshop on "mental health of adolescents" was designed for students of 13 and 15 years from the elementary school "Kuzman Josifovski - Pitu" and the elementary school "Krume Kepeski" from Skopje, held on 4 February 2020 in the elementary school "Kuzman Josifovski - Pitu". The subject of the workshop was mental health.
The purpose of the workshop was to identify the types of behaviors and emotional reactions of boys and girls in school, family, community, using data from the Survey of Health Behavior in School Children. Read the case report.
---
Poland: Health and Mouth Hygiene
The School Complex in Goleniów and primary school students in Poland has entered the Amazing World of Mouth Hygiene. The program is recommended by the Polish Academy of Dental Prevention and the results are good. See the school case on Mouth Hygiene.
---
Polen: Heavy school bags - a health problem
'The Light Schoolbag' is a nationwide information and educational campaign in Poland, targeting elementary school students on the prevention of posture defects. In the School Complex in Goleniów, students of the Primary School, Work-Adaptation School and the First-grade Vocational School have had their schoolbags weighted, but most important: The activities draw attention of teachers, children and parents to the issue of heavy backpacks and how to take better care of your body in the future. Read about the school's backpack activities.
---
Reduction of noise in Polish school
In Danuta Szyksznian Primary School No.14 in Szczecin, teachers and 366 pupils work engaged in reducing noise during school time. The school considers the health of children as a priority of the school's everyday life. Every day the school has activities connected to reduction of noise levels at school and education about respecting silence. Read about noice reduction activities.
---
Skin Health Program: Holistic health promotion in Hungarian schools
In Hungary, other health providers can assist teachers working with health promotion. The attached file describes how other actors work with teachers to improve health literacy and health competencies of children particularly in relation to skin and sexual health Skin Health program
---
"We are responsible for our health" - examples from Slovenian workshops
Kozje Primary school joined the Slovenian Healthy Schools Network in 2019 in order to respond to the problems related to the health of children and adolescents and to implement health promotion programs in the physical, mental, social and environmental health fields for students, teachers and parents. This school year, the school have had activities aimed at promoting healthy eating, exercise and mental health under the name "We are responsible for our health". The approaches were based on active forms of work, play and a pleasant experience for the pupils. Read about how this was done.
---
Cooperation between the Flemish Institute for Healthy Living and the Department of Education and Training
In 2016 the Flemish Government set up the objective that by 2025 80% of the Flemish schools works with pillars of the whole school approach. To attain this objective, the Flemish institute for Healthy Living (funded by the ministry of Health) monitors the policy in schools and develops several tools helping schools. The ministry of Education supports this work by several measures, including updating policy frameworks: a new decree on pupil guidance, a new framework for the quality of education and new learning outcomes. Health policy is included in all of these frameworks. A video to promote Healthy schools makes this clear - have a look:
If you want a brief overwiew of the Flemish preventive health landscape, the organisation and more specifically the work in education, have a look at a presentaion by Tineke Van Steenkiste (Flemisch Institute for Healthy Living) and Rita Van Durme (Department of Education and Training in Flanders in Belgium). You'll find out how the Departement of Education and Training in Flanders is involved in school health promotion, what is the assignment and how is the cooperation organised. The importance of cooperation between government and practise experts is shown. See the presentation.
---
Camp for Slovenian Health Promoting Schools
Primary School Veržej is one of twelve primary and secondary schools, which established the network of Slovenian Health Promoting Schools in 1993. The founders of Slovenian health promoting schools meet every year to exchange good practice examples and ideas. The camp of 2019 was hosted by the Primary School Veržej. The camp was visited by representatives, coordinators and students of Slovenian Health Promoting Schools as well as founders, leaders of school teams, regional and national coordinators of the network and was very successful.
---
Innovative practice book - Equity, Education and Health: learning from practice, 2014
This innovative practice book includes case studies of practice presented during the 4th European Conference on Health Promoting Schools.
Read more about the innovative practice book
---
Case study book 3rd European Conference on HPS, 2009
The third European Conference on Health Promoting Schools; 'Better Schools Through Health', was held in Vilnius, Lithuania in June 2009. Presented at the conference were a range of case studies of practice or 'stories' of school-based health promotion work.
Read more about the Case study book 3rd European Conference on HPS, 2009
---
From chaos to learning - a Danish case study, 2013
This is a success story about an ordinary Danish public primary and lower secondary school with huge social and learning problems. Taking a number of health parameters as its point of departure an initiative, in which cross-disciplinary collaboration was combined with a systemic approach in order to achieve the dual goals of well-being in school and learning, resulted in a completely new school structure.
Read the full case study - chaos to learning
---
A Slovenian case study: our school – hand in hand with local community
In cooperation with local, regional and national institutions, we planned topics and evaluated the results of common work. Bearing in mind the amount of time pupils spend in school, it is important to plan and direct the choice of activities which help develop pupils ́ basic values about food, sporting activities and relationship towards people and nature. In the process this project has become part of the school curriculum based on twelve goals formed by the previous European Network of Health Promoting Schools.
Case study focusing on school/student's mental health and skill building
---
Parental involvement - a Slovenian case study, 2012
Good cooperation between home and school is an important indicator of educational work. Qualitative partnership is based on trust, respect and mutual help. Good cooperation between parents and school is a contribution of today's democratic, student-friendly school, which enables a dialog of cooperation. Therefore, school and home in a partnership are equally responsible for a child's development and progress. In this article cooperation with parents in a Slovenian class is presented.