In 2020, a public awareness campaign and a new educational project were implemented in Latvia for different audiences regarding the importance of personal hygiene and proper handwashing. To let other countries learn form Latvia's experience, highlights from the campaign are shared.
Proper hand hygiene is a simple but effective way to reduce the risks of infectious diseases, especially now in COVID-19 times. It is vital to teach these skills to children because healthy habits that are learned while young are retained throughout the rest of life. Since 2016, The Centre for Disease Prevention and Control of Latvia (CDPC) has been hosting educational activities for different audiences regarding the importance of personal hygiene and proper handwashing.
In 2020, a major public awareness campaign was launched for pre-primary/primary school children and their parents called "Wash your hands clean so they are microbe-free". The campaign clarifies the importance of hand hygiene in preventing infectious diseases and encourages parents to focus on their families' hand hygiene by developing correct hand-washing skills for children. To improve the audience retention of the campaign, the mascot Mr. Soapy was created - the best helper in the fight against dirty hands and micro-organisms that cause various diseases.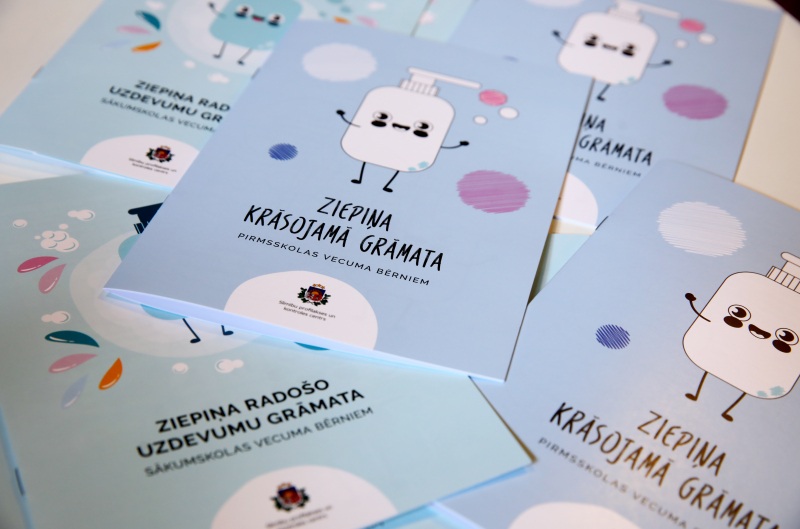 The campaign activities included:
the Mr. Soapy hand-washing song and video (Mr. Soapy video), which was created in cooperation with musicians known in Latvia;
a coloring book (Coloring book) and a creative task book (Creative tasks) made for preschool children;
informative materials for parents with tips on how to build children's handwashing habits and more (see e.g. creative tasks) on the campaign's website.
Also from 2016 to 2019, The CDPC hosted over 1,000 personal hygiene and handwashing lessons for children between the ages of 5 and 8, om total more than 17,000 students.
In 2020, a new educational project titled "Your health in your own hands!" about hand hygiene was organized for pupils in classes 5 to 7. As part of these educational activities, 413 events were hosted in Latvian general education schools with 7,577 participants. In an easily rememberable and interactive manner, the importance of daily hand washing, the consequences of non-compliance with hand hygiene, and the proper handwashing technique were explained.
The activities included:
a theoretical part with gamified quiz where participants had to answer theory questions on their phone;
an experiment with powder that shines under UV light;
learning proper handwashing technique (see project exercise book);
games about epidemiological investigations and calculating disease spreading rates.