Living conditions are the circumstances affecting the way children live and this often affects their health. Often, choice of lifestyle in relation to nutrition, physical activity, alcohol and smoking are considered as the main determinants of an individual's health but living conditions are equally important.
In 1991, Dahlgren and Whitehead published a map of the determinants of health describing the different factors which influence the health of the individual1. Lifestyle and living conditions were considered equally important. The main difference between living condition and lifestyle are which of these factors are within a person's area of control. See picture below in relation to an illustration of Dahlgren and Whiteheads model.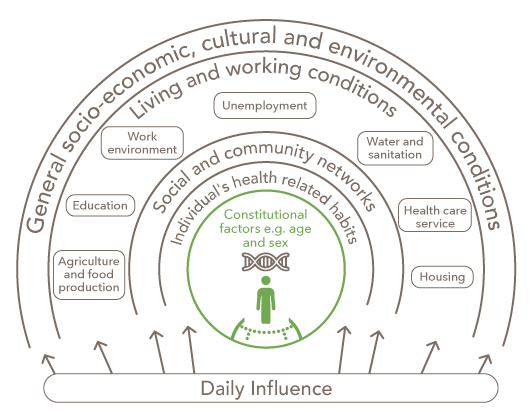 In 2010, The Commission on the Social Determinants of Health published it's final report highlighting the importance of improving living conditions in order to improve overall health and the factors described under living conditions included access to health care and education, quality housing, clean water, sanitation, social protection and universal health care2.
---
1Dahlgren, G., & Whitehead, M. (1991). Policies and strategies to promote social equity in health. Stockholm: Institute for future studies, 1-69.
2Solar O, Irwin A. A conceptual framework for action on the social determinants of health. Geneva, Switzerland: WHO; 2010. [September 22, 2016]. (Social determinants of health discussion paper 2 (policy and practice)). http://www​.who.int/sdhconference​/resources​/ConceptualframeworkforactiononSDH​_eng.pdf.
---