On May 5, the "World Hand Hygiene Day" was celebrated in schools in Portugal. The school Carolina Michaelis responded to the challenge in a Regional School competition - and the video from the school's class 1A was awarded! Congratulations to the students and teachers of class 1A for the result and for having inspiring their peers to improve good practice in a creative way.
The video aims to create good hand hygiene habits. That is always an important subject - but even more important in pandemic times! Good hand hygiene helps to avoid infections and is extremely important in our daily life, promoting health and responsible citizenship.
The Portuguese regional school competition was launched in a partnership between the Ministries of Health and Education for the schools of the 1st cycle.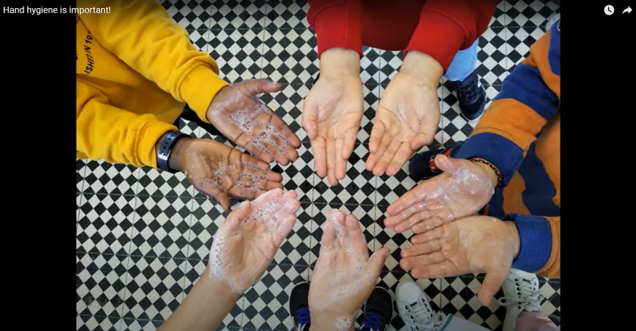 In addition to this participation, awareness sessions with PowerPoint presentations were held on the subject to two classes of the 2nd year. The students showed great interest and were very participative by asking several questions / suggestions on the subject. Another initiative was a creation of a poster to place in the toilet areas at school to focus on the importance of hand hygiene.